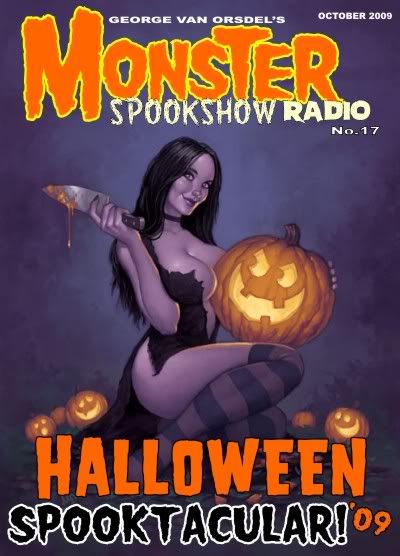 Hell-o Boils and Ghouls!!
Welcome to the latest installment of
MONSTER SPOOKSHOW RADIO!
October is finally here and the countdown to Halloween officially begins! That also means the 2009 Halloween Spooktacular edition of Monster Spookshow Radio is now available! This month's installment is sure to give you a fright that is out of sight!
"Witches flying past on broomsticks,
Black cats leaping here and there,
White-robed spooks on every corner,
Mournful moaning in the air,
Goblins peering out of windows,
Spirit-things that rap and run-
But don't be scared-it's just October,
Having one last hour of fun!"
This month's tricks and treats are:
HELL ON HALLOWEEN - The Vincent Razorbacks
LITTLE JACK-O-LANTERN - The Dead Elvi
THE DAY AFTER HALLOWEEN - The Dead Vampires
HALLOWEEN - Wade Denning & Kay Lande
NO COSTUME, NO CANDY - The Swingin' Neckbreakers
GRIMLY FIENDISH - The Damned
TRICK OR TREAT - The 4 Flops
BRIDE OF THE MONSTER - Kitty In A Casket
HALLOWEEN - AFI
HALLOWEEN - Stephen Lynch
THE SKELETON IN THE CLOSET - Louis Armstrong
SPOOKY CITY U.S.A. - The Misfits
HELLBOUND HALLOWEEN - Hellbound Hearse
HEADLESS HORSEMAN - Kay Kyser & his Orchestra, feat. Freddy Froghammer
TERROR IN THE HAUNTED HOUSE - Blitzkid
PLEASE MR. GRAVEDIGGER - David Bowie
BELA LUGOSI'S DEAD - Bauhaus
HALLOWEEN II - Samhain
HALLOWEEN - The Young Werewolves
QUEEN OF HALLOWEEN - The Chotalls
THERE IS A HAUNTED HOUSE IN TOWN - The Wonderland Singers
HELLO-O-WEEN - The Swing Rays
HALLOWEEN - The Coffinshakers
HAPPY HALLOWEEN - The Fuzztones
THE YEAR WITHOUT A HALLOWEEN - Lugosi's Morphine
Just click on the image above for the MONSTER SPOOKSHOW RADIO HALLOWEEN SPOOKTACULAR!
And as always, please feel free to leave comments!!
Enjoy......and Happy Haunting!
George Van Orsdel