Today I had the privilege of conducting an interview panel with some of the original cast members of
Halloween II
, the follow-up to John Carpenter's
Halloween
. Interviewing Lance Guest, Leo Rossi, Ty Mitchell and "The Shape" himself, Dick Warlock, was definitely an honor for me, being such a huge fan of this film. Below is a picture from the interview, L-R: Ty Mitchell, Lance Guest, me, Dick Warlock and Leo Rossi.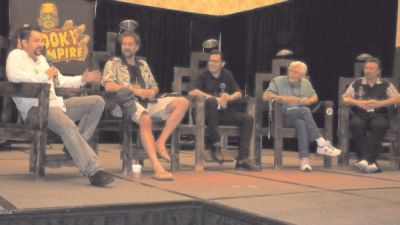 I do have to say, in my personal opinion, that
Halloween II
is by far the best of the
Halloween
sequels and remakes, only because it follows the original movie very closely. everything from the cinematography, the writing, the mood of the film and acting, was matched, almost identically, to the original. In fact, if you watch
Halloween
and
Halloween II
back to back, they could easily pass as one continuous film. I suggest you watch both films back to back, it really would make for a great double feature!