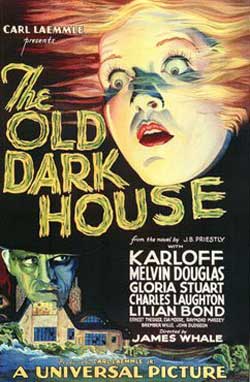 The Old Dark House
, starring the King of Monsters, Boris Karloff, Charles Laughton, Ernest Thesiger and Gloria Stuart, was released in 1932 by Universal Studios, shortly after the release of the classic
Frankenstein
. James Whale once again shows his talent for mixing the spooky with the laughs as he did so brilliantly in
The Bride of Frankenstein
.
The Old Dark House
centers around a group of travelers, while seeking shelter from a storm, are admitted to a gloomy, foreboding mansion belonging to the extremely strange Femm family. Trying to make the best of it, the guests must deal with their sepulchral host, Horace Femm (wonderfully played by Ernest Thesiger), who claims to be on the run from the police, and his religious, obsessive, malevolent sister, Rebecca (Eva Moore). Things get worse as the brutish mute butler, Morgan (played by Boris Karloff, in a role similar to the Frankenstein monster), gets drunk, runs amok, threatens Margaret Waverton (
The Imvisible Man
's Gloria Stuart) and releases the long pent-up brother, Saul, a psychotic fantasist and pyromaniac who gleefully tries to destroy the residence by setting it on fire.
This movie set the standard for the "old dark house" type of films, such as William Castle's
House On Haunted Hill
. Below I am posting a link to
The Old Dark House
on YouTube (embedding is disabled unfortunately), but you can see all 10 parts on YouTube. Watch it, it's definitely an underrated classic! just click the image below and enjoy some spooky fun!