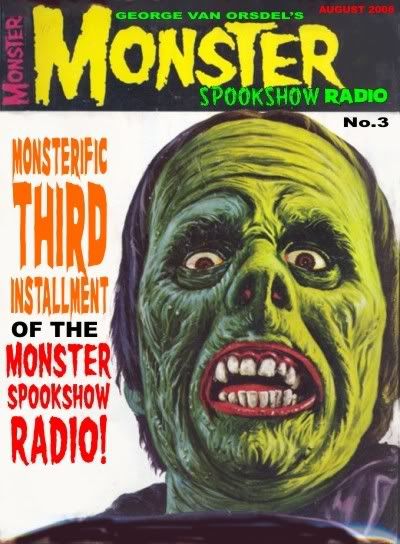 As originally posted on the MSR Myspace page on August 1, 2008:
"Hey there boils and ghouls,
Make sure you take a listen to the all-new MONSTER SPOOKSHOW RADIO 3, the third installment is available NOW! Be sure you check it out!
This month's delightfully dreadful tidbits are:
MONSTER SPOOKSHOW RADIO 3
1. Splatter Baby - Demented Scumcats
2. Graveyard - The Fantom Five
3. This House Is Haunted - Dave Vanian and his Phantom Chords
4. Spooks - Louis Armstrong
5. Grave Dig Her - The Ghastly Ones
6. Little Demon - Screamin' Jay Hawkins
7. Transylvanian Express - Batmobile
8. I'm The Wolfman - Round Robin
9. Gravediggers Rock - The Polecats
10. Zombie Compromise - Shadowy Men on a Shadowy Planet
11. Hearse With A Curse - Mr. Gasser and the Weirdos
12. Cannibal Flesh Riot - Blitzkid
13. Boris The Spider - The Who
14. Going To A Graveyard - The Witchdoctors
15. Riboflavin Flavored, Non-Carbonated, Polyunsaturated Blood - Don Hinson
16. The Vampire - Archie King
17. Ghost Train - The Swanks
18. The Undead Call - The Spook
I hope you enjoy listening to it as much as I enjoyed making it!!
Happy Haunting!
George Van Orsdel"