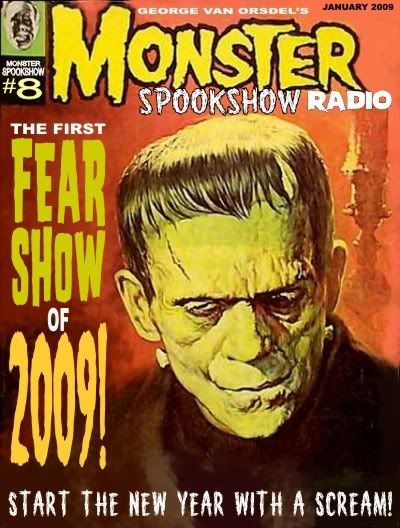 As posted on the MSR Myspace page on January 8, 2009:
"Hey there ghosties and ghoulies,
I hope everyone had a fangtastic holiday season and a very happy "BOO" year!
2009 is going to be another fun year full of spooktacular spookshow specials!
Submitted for your approval....
MONSTER SPOOKSHOW RADIO 8!!!
This month I present these morbid little melodies:
MIDNIGHT SPOOKSHOW - Calabrese
TRANSYLVANIAN ORBIT - The Space Cossacks
MR. WERE-WOLF - The Kac-Ties
I WAS A TEENAGE ZOMBIE - The Fleshtones
UNDEAD BLUES - Unknown Hinson
HOUSE BY THE CEMETERY - Wednesday 13
FRANKENSTEIN ROCK - Eddie Thomas
HORROR MOVIES - Dickie Goodman
ZOMBIFIED - Southern Culture On The Skids
INTERNATIONAL MONSTER PRESENTATION - Famous Monsters
DRACULA'S DAUGHTER - The Woggles
FRANKENSURFER II - The Surfaholics
THE CURSE OF THE HEARSE - Terry Teene
THE GRAVEDIGGER - SNFU
NIGHT OF THE PHANTOM - The Fuzztones
GRAVEYARD ROCK - The Joneses
YOU CAN GET HIM FRANKENSTEIN - The Castle Kings
WALKING DEAD - The Matadors
I hope you enjoy this month's installment, and the first installment for 2009 of MONSTER SPOOKSHOW RADIO!!!!
Happy Haunting!
George Van Orsdel"