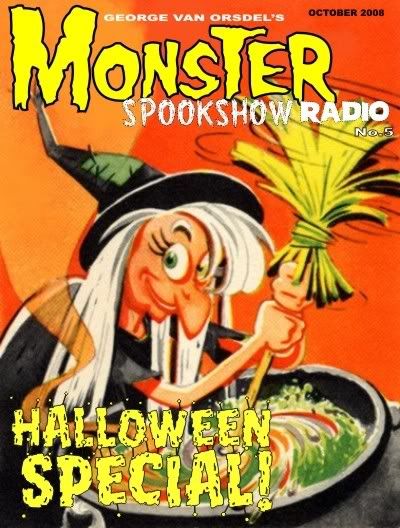 As originally posted on the MSR Myspace page on October 6, 2008:
"Greetings Boils and Ghouls!!
The MONSTER SPOOKSHOW RADIO HALLOWEEN SPECIAL
is now AVAILABLE!!
Of course this is the holiday we all love the most!! Monsters, spooks,
skeletons, we love it all!
And what better way to prepare yourself for Halloween, than by taking a
listen to my spooktacular Halloween Spookshow Special!!
Included this month are these frighteningly festive ditties...
HALLOWEEN - THE MISFITS
ALL HALLOWS EVE - BLOOD JUNKIES
SPOOKS WALK - THE SPOOKS
HALLOWEEN SPOOKS - LAMBERT, HENDRICKS AND ROSS
HALLOWEEN NIGHT - THE PHANTOM ROCKERS
FRANKENSTEIN'S PARTY - THE SWINGIN' PHILLIES
HALLOWEEN (SHE'S SO MEAN) - GHASTLY ONES W/ ROB ZOMBIE
SPOOKSVILLE - THE NU-TRENDS
CEMETERY SURFIN' - SHADOW REICHENSTEIN
N O ONE LIVES FOREVER - OINGO BOINGO
HALLOWEEN DANCE - WADE DENNING
NO MORE TRICK OR TREAT - MAD SIN
I'M A GHOST - FROM SCRAPPY'S GHOST STORY
HALLOWEEN DANCE - REVEREND HORTON HEAT
COFFIN BEGGAR - CULT OF THE PSYCHIC FETUS
CASKET SONG - MORGAN FREEMAN
MYSTERIOUS MOSE - RADIO ALL-STAR NOVELTY ORCHESTRA
BLOODLETTING - CONCRETE BLONDE
GARGOYLES OVER COPENHAGEN - NEKROMANTIX
I ONLY HAVE EYES FOR YOU - PAUL FREES & LOULIE NORMAN
THEME FROM HALLOWEEN - MX-80 SOUND
GRAVEYARD HOP - LEFT FOR DEAD
THE HAUNTED HOUSE - NEW MAYFAIR DANCE ORCHESTRA
EVERYDAY IS HALLOWEEN - THE ASTRO VAMPS
THIS IS HALLOWEEN - DANNY ELFMAN
HAPPY HALLOWEEN - ZACHERLEY
I hope you enjoy this special Halloween installment of
MONSTER SPOOKSHOW RADIO!!!
Happy Haunting.......and....HAPPY HALLOWEEN!!
George Van Orsdel"