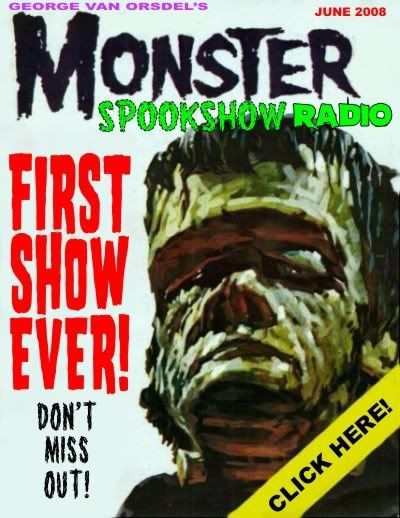 Here is the original post for the first Spookshow, as posted on the MSR page on Myspace, just click the image above to get the Spookshow:
"Hey there boils and ghouls,
I want to welcome you all to the very first installment of
MONSTER SPOOKSHOW RADIO!
Here is a run-down of all the music featured on this first show:
1. Dead Beat Dance - The Damned
2. Surprise - (I'm not tellin'!)
3. Werewolf - Carl Bonafede
4. Surf Bat - 45 Grave
5. Trick or Treat - Nekromantix
6. The Monster - Bobby Please
7. Human Fly - The Cramps
8. Ghouls Night Out - The Misfits
9. Screamin' Ball (at Dracula Hall) - The Duponts
10. Zombie Beach - Zombie Ghost Train
11. Night Of The Ghouls - The Undertaker and his Pals
12. Halloween - Sioxsie & The Banshees
13. Haunted House - Cris Kevin
14. The Thing From Venus - The Mummies
15. Everyday Is Halloween - Rezurex
16. Murder In The Graveyard - Screaming Lord Sutch
17. The Man In Black - Batmobile
18. Transylvania Surf - The Zombie Surfers
As you can see, there is a wide selection of different genres represented, as is my intention make sure all different kinds of music are represented....as long as they are spooky!!
I hope you all enjoy my Monster Spookshow Radio, it was alot of fun to put together, and I will continue to bring you some great creepy music each month!
Happy Haunting!
George Van Orsdel"