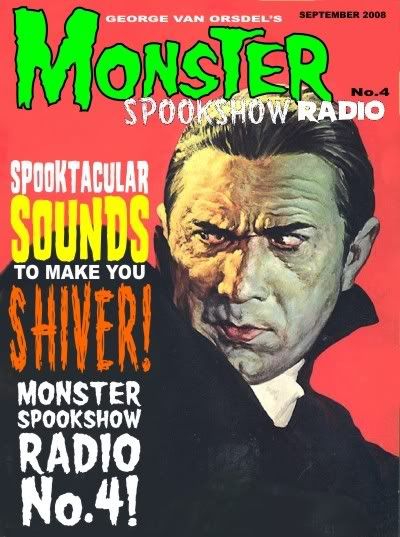 As originally posted on the MSR Myspace page on September 4, 2008:
"Hey there my little tender lumplings,
I'm back, and with another installment of MONSTER SPOOKSHOW RADIO!
The September installment features some terrifyingly tuneful treats!
MONSTER SPOOKSHOW RADIO 4
Graveyard Girlfriend - The Groovie Ghoulies
Night Of The Vampire - The Moontrekkers
Skeleton Swamp - Coffin Nails
Rockin' Bones - Ronnie Dawson
Chainsaw - The Ramones
The Horror Show - Sharkey Todd
Skulls - The Lemonheads
Coolest Little Monster - Zacherley
Graveyard Blues - Godless Wicked Creeps
The Legend Of Sleepy Hollow - The Monotones
Rockin' Zombie - The Crewnecks
Black Sunday - The Coffinshakers
Teenage Brain Surgeon - Thurl Ravenscroft
House On Haunted Hill - Kenny and The Fiends
Digging My Grave - The Monsters
At The House Of Frankenstein - Big Bee Kornegay
The Devil's Skin - Gein and The Graverobbers
Beware - Bill Buchanan
Horror Pictures - Calvanes
Playground Horror Peepshow - Gutter Demons
I hope you enjoy Monster Spookshow Radio 4, and don't forget,
next month is October, which means Halloween is just around the corner,
so expect a spooktacular Halloween edition of Monster Spookshow Radio
next month!!
Enjoy and......Happy Haunting~!
George Van Orsdel"