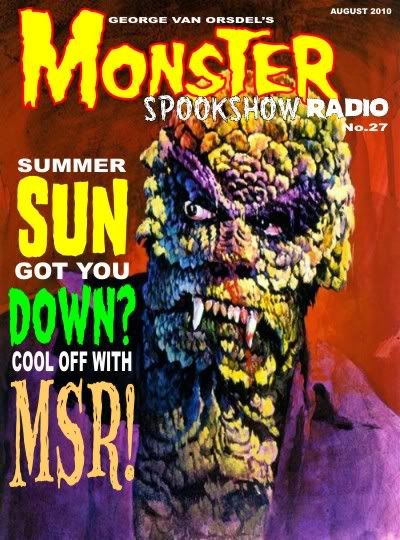 Hell-o there boils and ghouls!
Welcome to the latest installment of
MONSTER SPOOKSHOW RADIO!
The summer heat has been blaring down, and what better way to cool
off than with a nice blast of bloody beats!
This month's screamin' sizzlers are:
KILLER CREATURE DOUBLE FEATURE - Mr. Underhill
MONSTER IN A DRAGSTER - The Braineaters
MUNSTERS THEME - The Escalators
FULL MOON HOP - Memphis Morticians
FRANKENSTEIN'S DEN - The Hollywood Flames
HAUNTED CASTLE - The Kingsmen
I'M YOUR ZOMBIE - The Spectres
I PUT A SPELL ON YOU - Screamin' Jay Hawkins
REDNECK ZOMBIES - PsychoCharger
MY MAN'S AN UNDERTAKER - Dinah Washington
WEREWOLF - Five Man Electrical Band
VAMPIRE GIRL - Devil's Brigade
DR. JEKYLL AND MR. HYDE - The Who
MONSTER SQUAD - Coffin Caddies
AIN'T IT GRAND TO BE BLOOMING WELL DEAD - Blarmy Brothers
THE LURCH - Ted Cassidy
DATE WITH A VAMPIRE - The Screaming Tribesmen
MONSTERS LEAD SUCH INTERESTING LIVES - Mel Torme'
OLD BORIS - Bela La Goldstein
VAMPIRE IN THE SUN - Johnny Nightmare
Just click on the image above to get the latest installment of
MONSTER SPOOKSHOW RADIO!
Enjoy......Happy Haunting!
George Van Orsdel