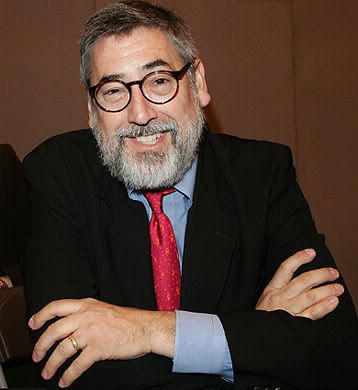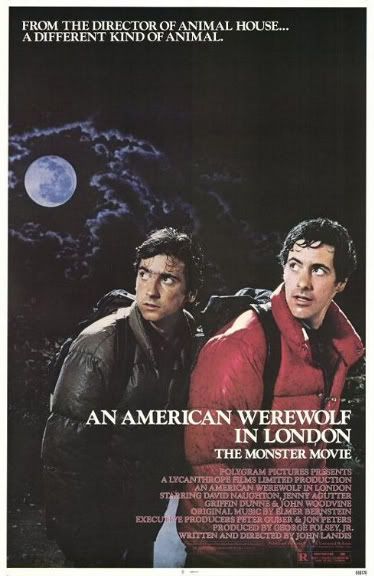 JOHN LANDIS
, born August 3, 1950, may be well-known as a director of famous Hollywood comedies such as
ANIMAL HOUSE
and
TRADING PLACES
, but to me he will always be the director of my all-time favorite werewolf movie,
AN AMERICAN WEREWOLF IN LONDON
. John has had his share of horror in his career, starting with the low-budget horror satire
SCHLOCK
, then of course with
An American Werewolf In London
. John also delved into the music video business by creating possibly one of the best music videos in history,
Michael Jackson's
THRILLER
! John Landis later went on to direct the horror/comedy
INNOCENT BLOOD
, and let's not forget his entries into the Masters Of Horror series,
DEER WOMAN
and
FAMILY
. John is currently filming
BURKE AND HARE
, a film about the 2 most famous body snatchers in history. John has an incredible knack for mixing horror with comedy, something many have attempted but have failed miserably at. I had the pleasure of meeting and speaking with John Landis last year and
Spooky Empire's Weekend Of Horror in Orlando
, Florida. He was an absolute riot! He was incredibly friendly and funny, and was definitely a high point for me. In fact, he saw my son Zachary and absolutely fell in love with him, snatched him from me and wouldn't give him back! (check out the pics below, also pictured with
Paul Davis
, director of the amazing AWIL documentary
BEWARE THE MOON
). Happy Birthday to one of Hollywood's best, John Landis!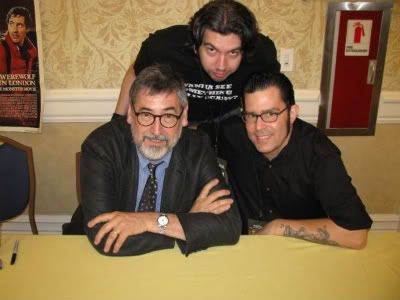 (
here I am pictured with John Landis and Paul Davis
)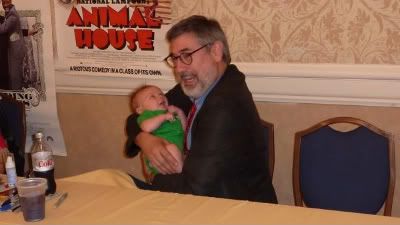 (
Here's John threatening to keep Zachary
)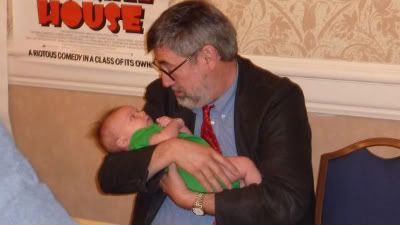 (
John cooing over Zachary
)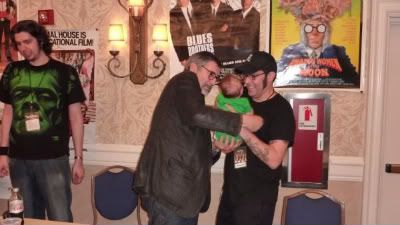 (
John finally hands Zachary back over to me!
)