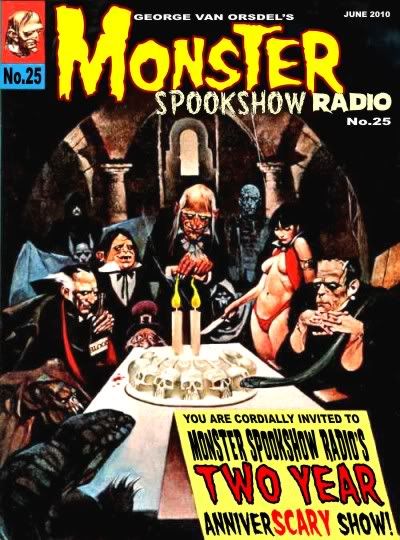 Hell-o there boils and ghouls!
Welcome to the 2 year Anniver-"Scary" installment of
MONSTER SPOOKSHOW RADIO!
Yes my little fiends, it's been 2 years now since the very first Monster Spookshow Radio!
I can't believe it's been so long, it's gone by so fast! And I'm glad you've all stuck around!
I'm looking forward to another year of Scare-riffic music, and I hope you continue to join me!
This month's fang-tastically delightful dirges are:
WEREWOLF BABY - Louis King and the Liars Klub
TRANSYLVANIAN PERFUME - G.B.H.
THERE WAS A FUNGUS AMONG US - Hugh Barrett
WAKIN' THE DEAD - Shadow Reichenstein
THEME FROM THE ADDAMS FAMILY - The Fiends
NOSFERATU - 3-D Invisibles
ZOMBIE WALK - The Magics
MY MUMMY - Mel Calvin and the Kokonuts
SKELETON GIRL - 13 Bats
GRANDPA'S GRAVE - Peter Sellers
EL MONSTER SURFIN' TIME - Los Pelegrinos Negros
SURFER GHOUL - Mr. Gasser and the Weirdos
TEENAGE GHOULS OUT FOR BLOOD - American Werewolves
THE SPIDER & THE FLY - Bobby Christian & The Allen Sisters
MONSTER GOOSE RHYMES - Gene Moss
HER OPEN GRAVE - Mister Monster
MONSTER TALK - Dickie Goodman
I WISH MY GIRLFRIEND WAS A ZOMBIE - Twisted In Graves
Just click on the image above to get the latest installment of
MONSTER SPOOKSHOW RADIO!
Enjoy......Happy Haunting!
George Van Orsdel