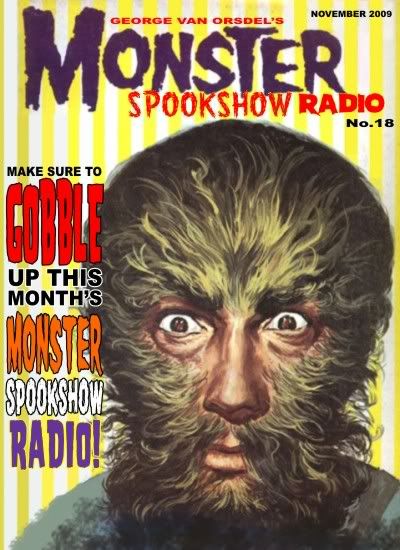 Hell-o Ghosties and Ghoulies,
and welcome to the 18th installment of
MONSTER SPOOKSHOW RADIO!
November is upon us, and the end of another year is slowly creeping up.
This month's Monster Spookshow Radio serves you up a nice menu that is sure
to be a tasty treat!
This month's devilish delicacies are:
PLASTIC MONSTERS - Mad Sin
MY UNDEAD BRIDE - The Matadors
HAUNTED FINK - The Finks
IT'S A MUMMY - The Chimps
WALKING DEAD - The Independents
THE VOODOOD MAN - The Del-Vikings
SPOOKY MOVIES - Roy Clark
GRAVEROBBERS FROM OUTER SPACE - PsychoCharger
PET SEMETERY - The Ramones
SAVE IT FOR THE VAMPIRES - King Dapper Combo
RIBOFLAVIN FLAVORED - 45 Grave
MAN-MADE MONSTER - Plan 9
MR. GHOST GOES TO TOWN - 5 Jones Boys
MONSTER MASH - Vincent Price
THEME FROM SPIDER-BABY - Lon Chaney Jr.
SURFIN' HEARSE - Jan and Dean
I WAS A TEENAGE WEREWOLF - Creeping Cruds
Just click the image above to get the latest installment of
MONSTER SPOOKSHOW RADIO!
Enjoy......and Happy Haunting!
George Van Orsdel