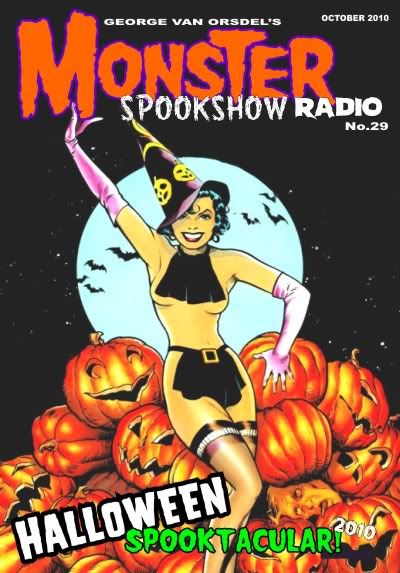 Hell-o there boils and ghouls!
Welcome to the
MONSTER SPOOKSHOW RADIO
HALLOWEEN SPOOKTACULAR 2010!
Well my tender lumplings, October is here and the Halloween Season is finally upon us, and what better way to celebrate than with The
Monster Spookshow Radio Halloween Spooktacular
! And with this
installment we begin our annual countdown to the greatest holiday ever...
HALLOWEEN
!
This year's Spooktacular swingers are:
SO C'MON - The Horrorgans
KEEPIN' HALLOWEEN ALIVE - Alice Cooper
THE NIGHT BEFORE HALLOWEEN - Bill Buchanan
HALLOWEEN - Hellcat And The Prowl
MOSTLY GHOSTLY - Kid Stuff Repertory Company
TRICK OR TREAT - The Nekromantix
CHA-CHA WITH THE ZOMBIES - Upperclassmen
HALLOWEEN (SHE'S COMING) - The Dead Elvi
GRAVEYARD POLKA - Damn Laser Vampires
HONKY TONK HALLOWEEN - Captain Clegg and The Night Creatures
SEASN OF THE WITCH - Donovan
THE HALLOWEEN SONG - Al Dana
HALLOWEEN - The Coffinshakers
GRAVEYARD - The Blenders
MY HALLOWEEN - Ghoultown
HAUNTED HOUSE - Creed Taylor
HALLOWEEN-TIME ALL THE TIME - Pine Hill Haints
HALLOWEEN II - Cradle Of Filth
OMAR THE VAMPIRE - The Hamburger Brothers
HALLOWEEN TOWN - The Dead Vampires
THE PUMPKIN TELLS - Wade Denning and Kay Lande
THE SCREAM ON HALLOWEEN - The Browns
IT'S HALLOWEEN - The Shaggs
EVERYBODY SCREAM - Rob Zombie
DESPERATION SAMBA ( HALLOWEEN IN TIJUANA) - Jimmy Buffet
IT'S HALLOWEEN - Shadow Reichenstein
THAT HALLOWEEN NIGHT - Denis and The Double-Dates
JACK-O-LANTERNS - Murderland
EL MONSTRUO - Los Shains
ZOMBIE WANNABE - Kitty In A Casket
Just click on the image above to get the latest installment of
Make
MONSTER SPOOKSHOW RADIO's
HALLOWEEN SPOOKTACULAR 2010
your
official soundtrack for this Holiday Season!
Enjoy......Happy Haunting...and
HAPPY HALLOWEEN
!
George Van Orsdel