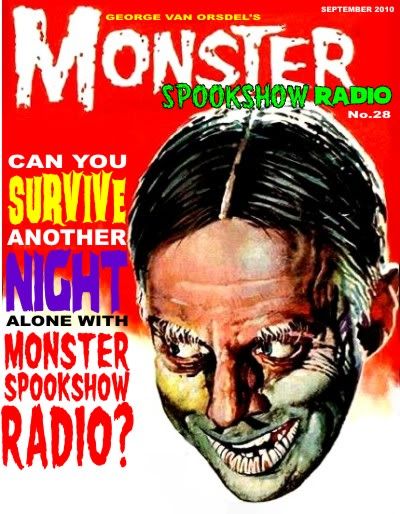 Hell-o there boils and ghouls!
Welcome to the latest installment of
MONSTER SPOOKSHOW RADIO!
Summer is almost over, as Fall slowly creeps closer! Halloween is only a month away!
So lock your doors, bolt your windows, and get ready for Monster Spookshow Radio No. 28!
This month's terror-iffic jungular jingles are:
GOIN' TO A GRAVEYARD - The Fuzztones
ORGY OF THE DEAD - Cult Of The Psychic Fetus
FRANKENSTEIN MEETS THE BEATLES - Dickie Goodman
GHOST TOWN - The Specials
WEREWOLVES ON WHEELS - The Born Losers
LULLABY OF GHOST LAND - Frankie Stein and his Ghouls
HORRORMOVIE FAN - Bloodsucking Zombies From Outer Space
FRANKENSTEIN OF '59 - Buchanan and Goodman
GRAVE MISTAKE - Hellcat and the Prowl
(Don't fear) THE REAPER - Blue Oyster Cult
I THINK OF DEMONS - Roky Erickson and The Aliens
FRANKY'S GROOVY MONSTER BOOTS - Eddie Angel and the Omega Men
MY FRIEND THE GHOST - Jill Whitney
MONSTER - Osaka Popstar
HORROR MOVIES - The Bollock Brothers
SATAN TAKES A HOLIDAY - Lenny Dee
SHE'S DEAD - Tuff Darts
ZOMBI - The Monotones
IGOR'S PARTY - Tony's Monstrosities
ZOMBIE RIOT - The Brains
Just click on the image above to get the latest installment of
MONSTER SPOOKSHOW RADIO!
Enjoy......Happy Haunting!
George Van Orsdel