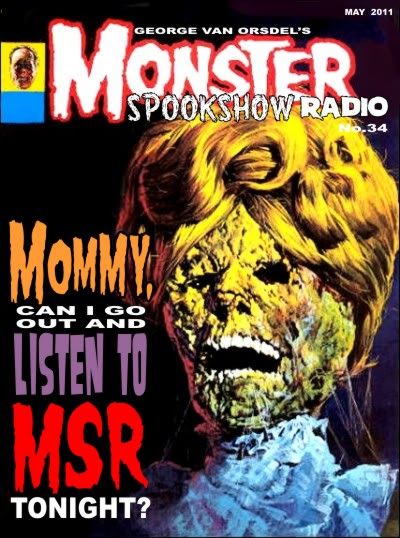 Hell-o there boils and ghouls!
Welcome to the 24th installment of
MONSTER SPOOKSHOW RADIO!
I'm still on a "every other month" schedule with the Spookshows, but luckily we ended up in May, which celebrates the most loving of holidays,
Mother's Day, so expect some Mother's Day surprises! May also bring the birthday of your devilish host, that's right, yours truly!
So prepare yourself for the latest bloody installment!
This Month's maniacally, motherly melodies are:
I LOVE THE DEAD - The Gravesiders
HOLLYWOOD VAMPIRES - B Movie Monsters
KING OF THE MONSTERS - Man...Or Astroman?
BLACK WIDOW - The Tarantulas
THE HEAD HUNTERS - Mike Fern
CREEPY GIRLS - The Gravetones
NIGHT OF THE LIVING DEAD - The Lugosis
RETURN OF THE LIVING DEAD - Ghoultown
CHILDREN'S DAY AT THE MORGUE - Sheldon Allman
HAUNTED HOUSE - Sam The Sham and The Pharaohs
FRANKENSTEIN'S DEN - The Mighty El Dukes
PSYCHO KILLER - The Talking Heads
NORMAN BATES - Landscape
TEENAGE ZOMBIE SLUTS - The Matadors
NIGHT MARE - Billy Sills
COUNT MACABRE - The Connoisseurs
DANCE WITH THE GHOULMAN - The Fleshtones
HOT ROD HEARSE - 3-D Invisibles
BLACK WIDOW SPIDER WOMAN - Jack Hammer
WATUSI ZOMBIE - Jan Davis
MOMMY, CAN I GO OUT AND KILL TONIGHT? - The Misfits
PUBLIC VAMPIRE No. 1 - Bloodsucking Zombies From Outer Space
Just click on the image above to get the latest installment of
MONSTER SPOOKSHOW RADIO!
Enjoy......Happy Haunting!
George Van Orsdel