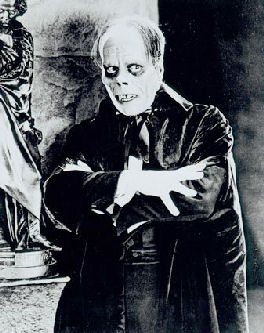 Leonidas Frank Chaney
was born April 1st, 1883, to deaf parents, and went on to become one of silent film's greatest actors and one of horror film's biggest superstars. Lon Chaney, nicknamed "
The Man of A Thousand Faces
", worked on stage and vaudeville, before settling into a career as a film actor. Starting off in small bit parts, Chaney soon established himself as a great actor and a master of make-up, creating some of the most memorable and elaborate make-ups ever seen. Chaney's most famous make-ups, those of
Erik
in "
The Phantom of The Opera
", and as
Quasimodo
in "
The Hunchback Of Notre Dame
" are the stuff of legends. Lon Chaney's career lasted for over 160 films, before his life was cut short due to lung cancer at the age of 47. Read all about Chaney's amazing life and career on his
Wikipedia
page. Happy Birthday to the Man of 1,000 Faces!!