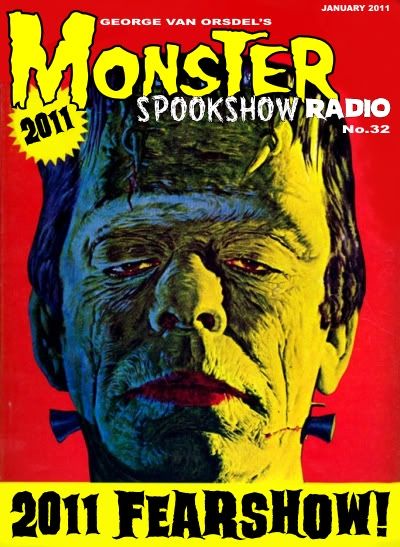 Hell-o there boils and ghouls!
Welcome to the
MONSTER SPOOKSHOW RADIO FEARSHOW 2011!
Another year begins, and with that I want to wish you all a Happy New Year, let's hope 2011
will bring us frightfully good things. So let's kick off 2011 with a brand new installment of
MONSTER SPOOKSHOW RADIO!
This FearShow's fangtastic rockers are:
RIGOR MORTIS ROCK - Bloodsucking Zombies From Outer Space
MOBILE COFFIN - Messer Chups
TEENAGE WEREWOLF - The Monsters
DR. JEKYLL AND MRS. HYDE - The Crystalairs
ZOMBIE - Johnny Fever
NIGHT OF THE VAMPIRE - Hola Ghost
THE ROCKIN' GHOST - Steve Allen & Ira Lee
CREEPIN' IN THE DARK - Rock City Morgue
BLOODLETTING (the Vampire Song) - The Family Ghouls
HAUNTED HOUSE POLKA - The Cavaliers
ZOMBIE PROSTITUTE - Voltaire
JANIE MADE A MONSTER - The Fabulous Five
FEAR (Theme from One Step Beyond) - The Ventures
BE TRUE TO YOUR GHOUL - The Ghouls
CREEPY MOON - Electromatic Swamp Trash
MONSTERS A GO GO - Billy Gholston
DO THE FREDDY - The Elm Street Group
WHEN THE MOON IS FULL - The Mummys and The Puppies
THE NEW FRANKENSTEIN AND JOHN - Gene Moss and The Monsters
GRAVEYARD GROOVE - The Revillos
CREEPY - The Hel-Gators
Just click on the image above to get the latest installment of
MONSTER SPOOKSHOW RADIO FEARSHOW 2011!
Enjoy......Happy Haunting!
George Van Orsdel