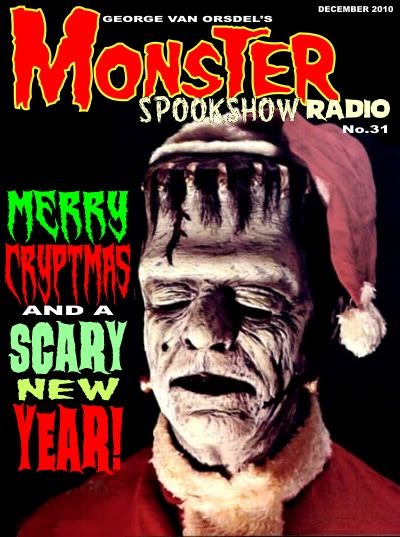 Hell-o there boils and ghouls!
Seasons Bleedings and Welcome to the
MONSTER SPOOKSHOW RADIO "Cryptmas" Special!
That's right kiddies, the Holiday Season is now upon us, time to dust off the Cryptmas ornaments
and carefully hang them on the tree, make sure the stockings are hung by the chimney with care
(be sure to remove the rotting foot!).
This month's spooky little tidbits from Santa Claws are:
CHRISTMAS GHOST - Manic Street Preachers
SANTA AND THE PURPLE PEOPLE EATER - Sheb Wooley
THERE AIN'T NO SANITY CLAUSE - The Damned
IT'S A MONSTER'S HOLIDAY - Buck Owens
YOU'RE A MEAN ONE, MR. GRINCH - Thurl Ravenscroft
NIGHTMARE BEFORE CHRISTMAS MEDLEY - Haunted Mansion Holiday
AWAY IN A MADHOUSE - Matt Fahey
HAVE YOURSELF A MERRY LITTLE CHRISTMAS - The Cryptkeeper
MONSTER HOLIDAY - Lon Chaney Jr.
CHRISTMAS WITH THE DEVIL - Spinal Tap
THE BITE BEFORE XMAS - The Cool Ghoul
REGGAE CHRISTMAS EVE IN TRANSYLVANIA - Count Floyd
IT'S THE MOST HORRIBLE TIME OF THE YEAR - J.D. Titan
SHOULDN'T HAVE GIVEN HIM A GUN FOR CHRISTMAS - Wall Of Voodoo
R2-D2 WE WISH YOU A MERRY CHRISTMAS - Meco
SWEENEY TODD THE BARBER - Stanley Hollloway
SPOOK'S HOLIDAY - Joe Liggins
THEME FROM SCROOGED - Danny Elfman
SANTA MEETS THE VAMPIRE - Len Maxwell
WE WISH YOU A MERRY CHRISTMAS - Haunted Mansion Holiday
Just click on the image above to get
Monster Spookshow Radio's "Cryptmas" Special 2010!
Enjoy......Season's Bleedings, Happy Holidays and Happy Haunting!
George Van Orsdel