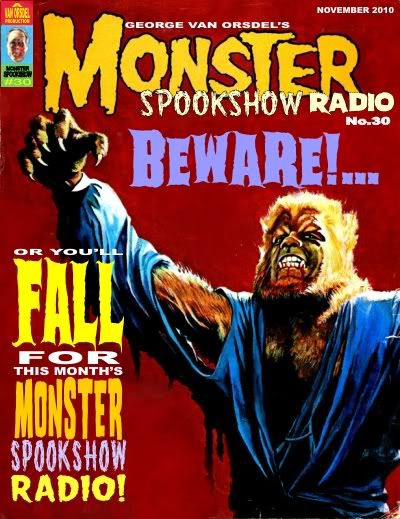 Hell-o there boils and ghouls!
Welcome to the 30th installment of
MONSTER SPOOKSHOW RADIO!
I hope you all had a very Happy Halloween, full of frights and fun! We're wrapping things up for
the Fall season, so you better start preparing for the dead of Winter!
This month's morbidly musical morsels are:
FULL MOON ARISE - The Independents
VOO DOO JUICE - The Ghouls
DIG THAT GRAVE! - Hipbone Slim & The Kneetremblers
SKELETONS IN THE CLOSET - Alice Cooper
KING KONG - Gene Moss
SWAMP THING - Dave Vanian and The Phantom Chords
GAMMERA - The Moons
LIVING NIGHTMARE - Johnny B. Morbid
CREATURE FROM THE BLACK LAGOON - Lord Melody
THE MAN WITH THE HEX - The Atomic Fireballs
HAUNTED HOUSE - Elvira
MORTICIAN'S STOMP - The Undertakers
TOMBSTONE - Suzanne Vega
I DIG YOU BABY - Bob McFadden and Dor
SLEEPING WITH A VAMPYRE - Brigitte Handley & The Dark Shadows
DEAD OR ALIVE - Oingo Boingo
FRANKIE FRANKENSTEIN - Ivan
GO ZOMBIE - Zombie Girl
I DON'T STAND A CHANCE WITH A GHOST LIKE YOU - Sheldon Allman
TOMBSTONE TAILS - The Tombstones
Just click on the image above to get the latest installment of
Enjoy......Happy Haunting!
George Van Orsdel