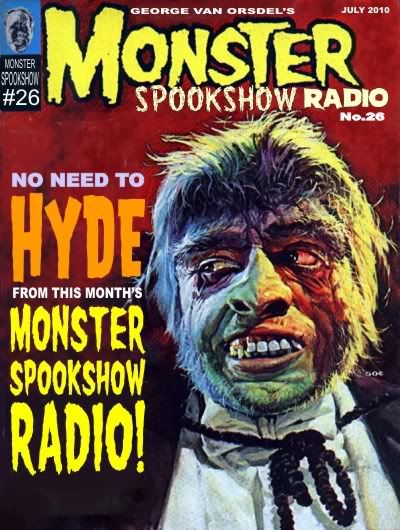 Hell-o there boils and ghouls!
Welcome to the latest installment of
MONSTER SPOOKSHOW RADIO!
The year is half over already, and we're one month closer to Halloween! Just 3 short months away!
In the meantime, I hope my little musical treats will do the trick!
This month's spine-tinglers are:
MONSTER RADIO - The Dead Vampires
GHOST RIDES TO WEST - Messer Chups
SHE'S A HUNCHBACK - The Dickies
THE GRAVEYARD SHIFT - The Ghouls
CREATURE FROM THE BLACK LEATHER LAGOON - The Cramps
GRAVEYARD TREE - The Koffin Kats
WITH HER HEAD TUCKED UNDERNEATH HER ARM - Rudy Vallee & His Connecticut Yankees
EERIE BEACH - The Munsters
MONSTER IN BLACK TIGHTS - Screaming Lord Sutch
PUMPKINHEAD - Groovie Ghoulies
GRAVEYARD BOOGIE - Buster Doss and his Arkansas Playboys
SURFIN' ZOMBIE - The Zombie Surfers
GRAVES - Lugosi's Morphine
21st CENTURY FRANKENSTEIN - The Hangmen
LAUGHING OVER MY GRAVE - Ray Stevens
A FISTFUL OF TERROR - The Bomboras
FRANK AND DRAC ARE BACK - Zacherle
LUST FOR A VAMPIRE - The Quintessentials
MORTAL MONSTER MAN - The Savoys
TAKE A TRIP TO MY GRAVE - Gutter Demons
Just click on the image above to get the latest installment of
MONSTER SPOOKSHOW RADIO!
Enjoy......Happy Haunting!
George Van Orsdel