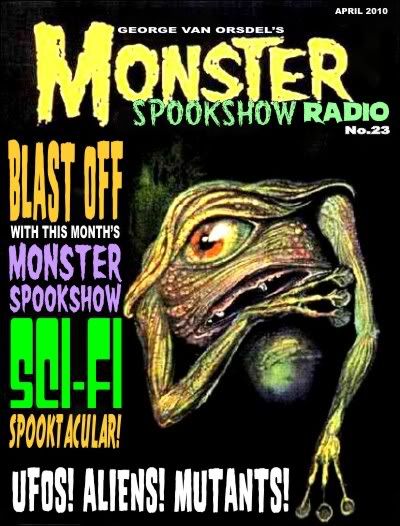 Hell-o there boils and ghouls!
Welcome to the 23st installment of
MONSTER SPOOKSHOW RADIO!
This month we blast off into outer space once again for our annual
Monster Spookshow Sci-Fi Spooktacular! Fear not, I will not be changing the name to SyFy....gag....
That would clearly and utterly be disrespectful to Mr. Forrest J. Ackerman, the man who coined the phrase
"Sci-Fi"! So climb into your space suit and strap on your rocket boosters, we're about to blast off!
This month's space-tacular songs are:
THEY CAME FROM OUTER SPACE - Left For Dead
INTO A TIME WARP - The Phenomenauts
ROBOT - The Tornados
SPACE INVADERS - Kitty In A Casket
TELSTAR - The Ventures
I TURNED INTO A MARTIAN - The Misfits
MARTIAN HOP - The Galaxies
BLAST OFF! - The Stray Cats
THEME FROM DR. WHO - Peter Howell
REVENGE OF THE CYBERMEN - The Prisoners
PLANET OF THE APES - The Goddamn Gallows
ALIEN VISITORS - Man Or Astroman?
THE SCREEMIN' MEEMIES FROM PLANET X - Merv Griffin
HIGHLY ILLOGICAL - Mr. Spock (Leonard Nimoy)
MYSTERY PLANET - The Bomboras
THE MARTIAN BAND - The Wild Tones
FLYING SAUCER - Hans Conried
MAN FROM MARS - Butch Paulson
OUT OF LIMITS - The Marketts
HUMAN REMAINS FROM OUTER SPACE - Horror Of 59
Just click on the image above to get the latest installment of
MONSTER SPOOKSHOW RADIO!
Enjoy......Happy Haunting!
George Van Orsdel