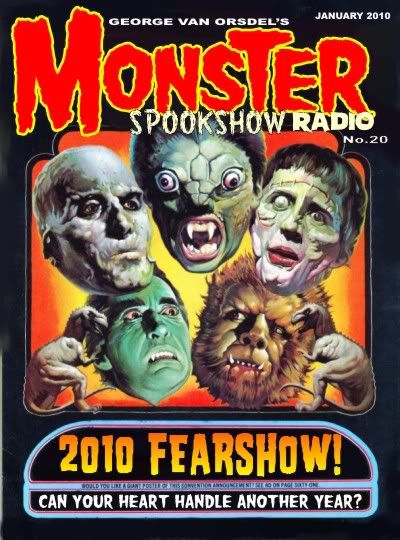 Happy "BOO" Year Boils and Ghouls!
Welcome to the 2010 "FEARSHOW" installment of
MONSTER SPOOKSHOW RADIO!
I hope everyone had a truly spooktacular Holiday Season and a Happy New Year!
We're finally in 2010, and the start of another horror-iffic year of fear and decade of dread,
and what better way to start it off than with an all-new Monster Spookshow Radio FEARSHOW!
This month's chillingly creepy cuts are:
CEMETERY MAN - Stellar Corpses
EVIL - 45 Grave
BEWARE OF THE GHOULS - The Other
MONSTER STOMP - The Dead Elvi
JACK THE RIPPER - Screaming Lord Sutch
HEARTY DRACULA - Messer Chups
COFFIN NAILS - The Ghouls
ROCKIN' BONES - Elroy Dietzel
REAL GONE MONSTER - Dead Tones
A-TISKET A-CASKET - Zacherle
GHOSTS - The Fright
MONSTERS ON PARADE - The Groovie Goolies
THE DEAD WALK AMONG US - The Undertaker and his Pals
DRACULA'S DRAG - Dickie Goodman
FOO MAN CHOO - The Revels
TRIPLE FEATURE HORROR SHOW - Horror Of 59
THE CAT - Rod Willis
FRIGHT NIGHT - The Decomposed
Just click on the image above to get the latest installment of
MONSTER SPOOKSHOW RADIO!
Enjoy......Happy Haunting!
George Van Orsdel