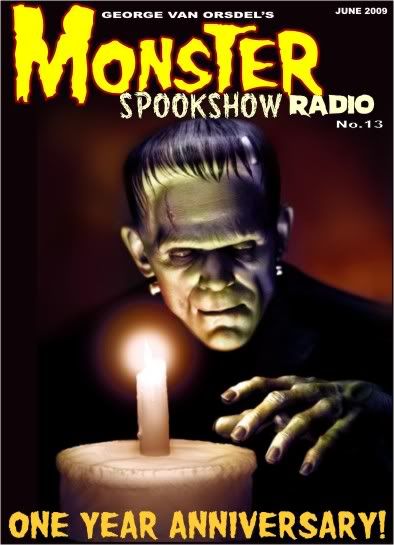 Hell-o fiends!
welcome to my One Year Anniversary edition of
MONSTER SPOOKSHOW RADIO!!
I can't believe it's been one year since I started doing my Monster Spookshow Radio,
and it's still as freash as the day it was buried! I still have as much fun doing it as I did when
I first started, and I want to thank everyone who has been along with me for the ride!
And of course, this is my lucky number 13th installment!
This month's monsterous melodies are:
HOUSE OF HORRORS - Merv Griffin
CREATURE FROM THE BLACK LAGOON - The 3-D Invisibles
GOTTA GET AWAY (FROM FRANKENSTEIN) - Hellbound Hearse
BAT-MAN, WOLFMAN, FRANKENSTEIN OR DRACULA - The Diamonds
MONSTER MUTANT BOOGIE - Bloodsucking Zombies From Outer Space
LEOPARD MAN - Joe Wallace
GODZILLA - Blue Oyster Cult
MONSTER MOVIE - American Werewolves
ROCKIN' IN THE GRAVEYARD - Jackie Morningstar
GRAVEYARD VIXEN - The Afterdarks
THE MONSTER - A Pair Of Kings
CAVEMAN HOP - Jerry Coulston
THE DEAD ARE COMING FOR ME - Left For Dead
MONSTER - Chris Williams and His Monsters
MIDNIGHT MONSTER HOP - Jack & Jim
CANNIBAL - Bamboula
DEAD - The Poets
WOMBIE ZOMBIE - Billy Taylor
HAUNTED HOUSE - Grave Stompers
MAD HOUSE JUMP - The Daylighters
CASKET - Graves
Just click the image ABOVE...if you dare!
I hope you enjoy my one year anniversary installment of
MONSTER SPOOKSHOW RADIO
and I look forward to another year ahead!
Happy Haunting!
George Van Orsdel