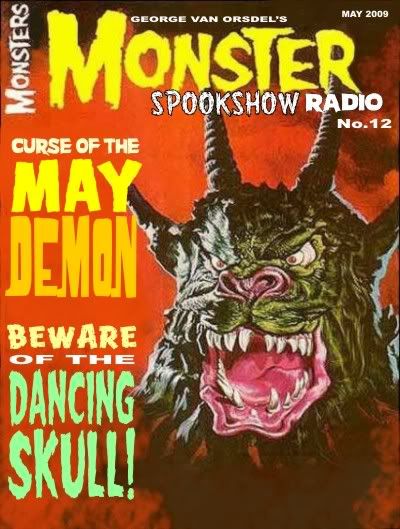 Hey there Fiendish Fans!
Welcome to the 12th installment of
MONSTER SPOOKSHOW RADIO!!
The month of May is upon us, and it's full of creepy cuts picked just for you!
May is an espcially fun month for me, since my birthday is in May, so don't forget
those special, spooky birthday wishes for yours truly!
This month's danceable deadlies are:
DEAD END DRIVE-IN - The Dead Vampires
GALA MONSTER RALLY - The Young Werewolves
I WAS A TEENAGE MONSTER - The Keytones
EVIL - The Hellbillys
THE VOODOO WALK - Sonny Richard's Panics with Cindy and Misty
WICKED WITCH - Mad Sin
GHOULNIGHT - The Spookshow
CHILDREN'S DAY AT THE MORGUE - Sheldon Allman
THE MUMMY'S BALL - The Verdicts
DRINK WITH THE LIVING DEAD - Ghoultown
DEAD SLED - The Phantom Creeps
IRRESISTABLE IGOR - Bobby "Boris" Pickett
CREATURES FROM THE MORGUE - Horror Of 59
DRAC'S BACK - Billy DeMarco
MY SON, THE VAMPIRE - Allan Sherman
MAN OR MONSTER - Gorgeous Frankenstein
THE MUMMY - Bob McFadden
GHOULS ON FILM - Hola Ghost
Just click the image above...if you dare!
I hope you enjoy this month's installment of
MONSTER SPOOKSHOW RADIO!
Happy Haunting!
George Van Orsdel