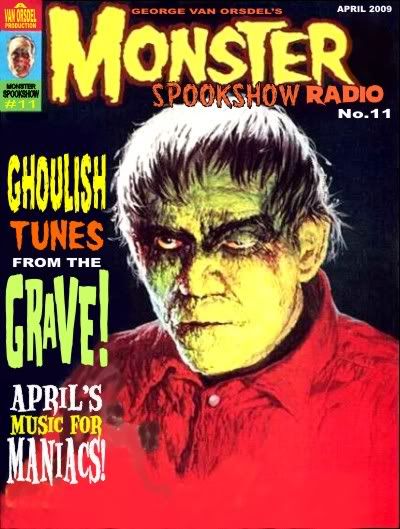 Hey there Creepsters!
Welcome to the 11th installment of
MONSTER SPOOKSHOW RADIO!!
There aren't any April Fool's jokes being played on anyone this month,
just plenty of music to make you shiver and shake!
This month's ghastly goodies from the grave are:
DRAGULA - The Trashwomen
ZOMBIE WORLD - The Hangmen
(I WAS A TEENAGE) CREATURE - Lord Luther
DRY BONES TWIST - The Drivers
RELEASE THE BATS - The Birthday Party
MONSTER MOVIE FAN - Nekromantix
THE GILA MONSTER - Joe Johnson
SHUDDERS AND SCREAMS - Ben Colder
TRANSYLVANIA MANIA - Mister Monster
ALL MURDER, ALL GUTS, ALL FUN - Samhain
NIGHT OF THE LIVING SKULL - Zombina & The Skeletones
VAMPIRE OUTLAW - The Coffinshakers
RETURN OF THE VAMPIRE (THE BOGEYMAN) - The Moontrekkers
DRACULA'S DUECE - Freddy Fortune and The For-Gone Conclusions
JEKYLL AND HYDE - Jim Burgett
THE RIGOR MORTIS SHAKE - Viva Death
MONSTER ROCK N' ROLL - Zombie Ghost Train
Just click the image above...if you dare!
I hope you enjoy this month's installment of
MONSTER SPOOKSHOW RADIO!
Happy Haunting!
George Van Orsdel