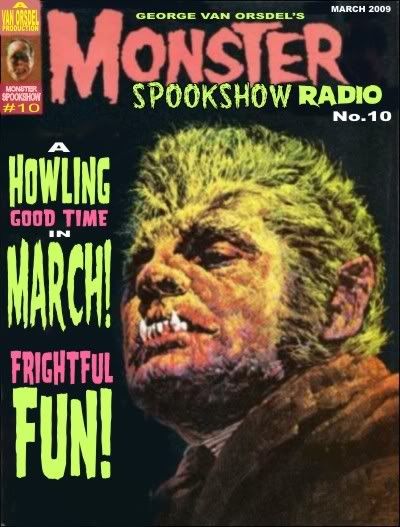 Hi there kiddies,
Welcome to the tenth installment of MONSTER SPOOKSHOW RADIO! I hope you've been enjoying the Spookshows so far! 10 Spookshows into this and I've only just begun to scratch the surface!
This Month's spooky spinners are:
HAVE YOU EVER SEEN (THE WALKING DEAD) - The Boss Martians
PLAYA DE LOS MUERTOS - The Bomboras
KING KONG - Big T Tyler
DON'T MEET MR. FRANKENSTEIN - Carlos Casal
SHE WAS A TEENAGE ZOMBIE - Murderdolls
BOOGIE WOOGIE BOOGIE MAN - The Brian Sisters
DEAD MAN'S PARTY - Oingo Boingo
JOHNNY FRANKENSTEIN - Tony Carr
ROTTIN' IN MY COFFIN - The Phantom Rockers
VOODOO VOODOO - LaVern Baker
BONE SPIDER - Nip Drivers
SHE'S A VAMPIRE - Batfinks
ZOMBIE DANCE - The Cramps
FRANKENSTEIN TWIST - The Crystals
SKELETON HILL 90210 - Curse Of The Horseflesh
THE MONSTER HOP - Bert Convy
UNDEAD - Plan 9
Just click the image above to get the MONSTER SPOOKSHOW RADIO #10!!
Enjoy and....Happy Haunting!!
George Van Orsdel