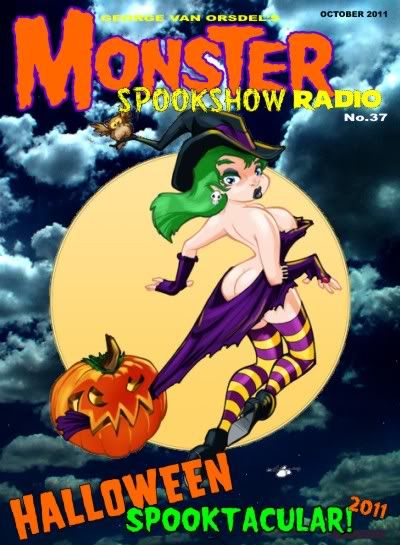 Hell-o there boils and ghouls!
Welcome to the
MONSTER SPOOKSHOW RADIO HALLOWEEN SPOOKTACULAR 2011!
That's right kiddies, it's that time of year again, when we don't dust off the cobwebs,
we pull out all the creepy, crawly things and get ready for the greatest of holidays...HALLOWEEN!
Make sure you check all your candy, and make sure you visit all the great blogs participating
in this year's Countdown To Halloween! In the meantime, crank up your stereo with MSR's latest
HALLOWEEN SPOOKTACULAR!
This Month's Trick or' Terrific Tunes are:
HALLOWEEN NIGHT - Ragdolls
MONSTER MASH - Bobby "Boris" Pickett
HALLOWEEN THEME - Zombie Zombie
THE HALLOWEEN SONG - Al Dana
IT'S HALLOWEEN AT THE HOUSE OF SPOOKS - Shiny Toy Guns
BALLAD OF THE ZOMBIE PUMPKIN - Dark Asylum
HALLOWE'EN, HALLOWE'EN - Oscar Brand
HALLOWEEN - The Family Ghouls
MR. GHOST GOES TO TOWN - Louis Prima
THE COOL GOOL - Sharkey Todd and his Monsters
TRICK OR TREAT - Elvira
THE HEADLESS HORSEMAN - Kay Starr
HALLOWEEN TOWN - The Dead Vampires
HALLOWEEN - Wade Denning and Kay Lande
EVERYDAY IS HALLOWEEN - Ministry
HALLOWEEN PARTY - Jack Starr
TRICKERTREAT - Lenkei
HAVE A HAPPY HALLOWEEN - The Wonderland Singers
EVERYDAY WITH YOU IS HALLOWEEN - October Rising
HAUNTED HOUSE BLUES - Happy Wilson
HALLOWEEN - Sacred Trash
A MERRY, SHHH, CREEPY HALLOWEEN - The Addams Family
THE ROCKIN' GHOST - The Modernaires
THIS IS HALLOWEEN - Panic! At The Disco
HAPPY HALLOWEEN - John Zacherle
Just click on the image above to get the latest installment of
MONSTER SPOOKSHOW RADIO HALLOWEEN SPOOKTACULAR 2011!
Enjoy......Happy Haunting....and HAPPY HALLOWEEN!
George Van Orsdel