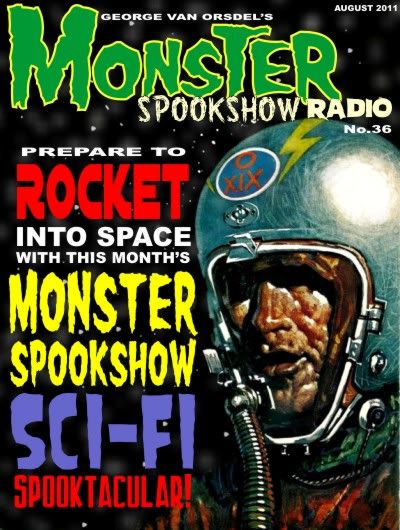 Hell-o there boils and ghouls!
Welcome to the 36th installment of
MONSTER SPOOKSHOW RADIO...
SCI-FI SPOOKTACULAR!
Strap on your turbo-boosters, check the rocket fuel and prepare to blast off into
deep space with this month's SpookShow Radio...yes kiddies, it's time for another
SCI-FI SPOOKTACULAR Special!
This Month's galactic goodies are:
BLAST OFF! -The Stray Cats
MARS ATTACKS - The Misfits
FLYING SAUCERS OVER VAN NUYS - The Ghastly Ones
SPACE MEN - The Velvetones
FIRST MAN ON MARS - Jackie Fautheree
REDNECK VIXEN FROM OUTER SPACE - Captain Clegg & The Night Creatures
FIREBALL XL-5 - The Dead Elvi
THE OUTER LIMITS THEME - Milton DeLugg
GIRLS IN ORBIT - Messer Chups
I AM ROBOT - The Phenomenauts
WE'RE GOING UFO-ING - Jimmy Durante
CRAZY ALIEN CHICK - King Memphis
CAPTAIN OF THE SPACESHIP - Spike Jones
ALIEN MOVIES - Brigitte Handley and the Dark Shadows
GRAVEROBBERS FROM OUTER SPACE - The Undertaker and his Pals
THEY'RE HERE - Boots Walker
FLYING SAUCERS Pt. 1 - Buchanan and Goodman
TATTOOED ALIENS - The Young Werewolves
PURPLE PEOPLE EATER - Sheb Wooley
GIANT MONSTERS FROM OUTER SPACE - Silent Horror
Just click on the image above to get the latest installment of
MONSTER SPOOKSHOW RADIO SCI-FI SPOOKTACULAR!
Enjoy......Happy Haunting!
George Van Orsdel