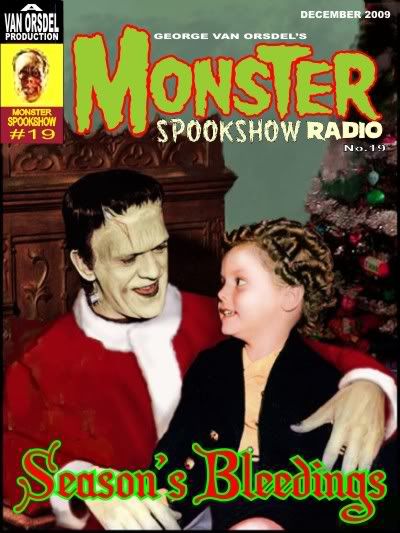 Season's Beatings and Ghoultide Greetings,
and welcome to the 2009 "Cryptmas" installment of
MONSTER SPOOKSHOW RADIO!
The holiday season is finally upon us, so make sure you've been naughty, or else!
Sandy Claws is on his way, so make sure you're prepared!
This months' festive, festering rockers are:
CHRISTMAS NIGHT OF ZOMBIES - MxPx
SHOT MY BABY FOR CHRISTMAS - The Vaudevilles
MONSTER'S HOLIDAY - Bobby "Boris" Pickett
GOD REST YE MERRY GRIM GRINNING GHOSTS - from Haunted Mansion Holiday
YOU'RE A MEAN ONE, MR. GRINCH - The Van Orsdels
PSYCHO - The Western Caravan
DEAD BY XMAS - Hanoi Rocks
I KILLED SANTA CLAUS - Creeping Cruds
MAKING CHRISTMAS - Danny Elfman
CHRISTMAS AT GROUND ZERO - Weird Al Yankovic
IT'S A MONSTER HOLIDAY - Buck Owens
12 DAYS OF CRYPTMAS - The Cryptkeeper
NEW YEARS EVE IN A HAUNTED HOUSE - Raymond Scott
HAPPY GHOULTIDE - Roy Odis
IF I DON'T GET TO GO TO A CHRISTMAS PARTY - Frankenstein's Monster
THE SOUNDS OF CHRISTMAS - Len Maxwell
AUD LANG SYNE - The Lothars
WE WISH YOU A SCAAARY CHRISTMAS - Count Scary
DON'T OPEN TIL DOOMSDAY - The Misfits
Just click the image above to get the latest installment of
MONSTER SPOOKSHOW RADIO!
Enjoy......Happy Holidays and Happy Haunting!
George Van Orsdel