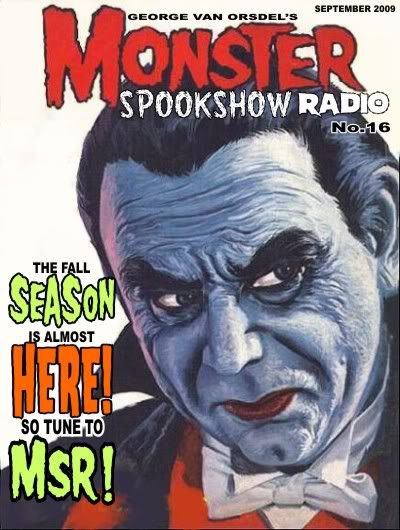 Welcome fellow fiendsters!
Welcome to the 16th installment of
MONSTER SPOOKSHOW RADIO!
September is upon us, which means one more month until HALLOWEEN, the BEST time of the year!
And to prepare you for next month, I offer you a deadly dose of danceable delights!
And for those of you folks who don't already know, as of tomorrow I will officially be a dad! That's right,
Zachary Price will arrive tomorrow via c-section!
This month's bloody ballads are:
WAITING FOR THE GRAVE - Dead Tones
BLACK MAGIC - T.S.O.L.
HEADLESS GHOST - The Nightmares
GRAVE ROBBING TONIGHT - Zacherle
MY CORPSE BRIDE - B-Movie Monsters
SKELETON TOPLESS - Messer Chups
SURF MONSTER - Gene Moss
A CORPSE IN MY BED - Creature Feature
DRACULA'S UNDYING LOVE - Children Of The Night
WERWOLF - Gary Warren
NIGHTMARE HOP - Earl Patterson
FAST ZOMBIES RULE - The Accused
THE CREATURE FROM THE BLACK LAGOON - Dave Edmunds
I KISS YOU DEAD - The Monsters
MONSTERPIECE - Texas Drag Queen Massacre
DRACULA'S CASTLE - Mike Sarne
THE THING - Phil Harris
ZOMBIE GIRL - Reservoirs Dogs
Just click the image above for this month's MONSTER SPOOKSHOW RADIO!
Enjoy, and...Happy Haunting!
George Van Orsdel